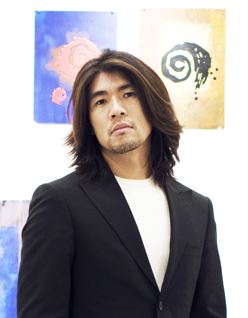 Yasuhiko Tsuchida
The only Japanese glass artist to run an atelier in Murano, Venice.
Most of his work revolves around glass, but also includes oil paintings and video art. He is noted for the presence of strong messages, concepts, and philosophy that invariably comprise the foundations of his every creation. He has been nicknamed as "The poet of glass". More recently, he has become known for his work in various domains such as writing, food, architecture, film, fashion, music, as well as collaborative work with creators.
1969 Born in Osaka.
1988 Graduates from Tsuji Culinary Institute and leaves Japan for Paris, to pursue food and art.
1992 Moves to Venice, Italy. Works at the famous "Harry's Bar" bar-restaurant, while holding exhibitions at various venues.
1995 Works as a glass artist in Murano.
1996 Assumes Art Director position at the Schiavon Glass Company.
1996 Announces "Bamboo Collection", a collection of glass sculptures with a Japanese bamboo theme, which gets featured in exhibitions around the world and is met with critical acclaim.
2000 Assumes Director position at the Venetian Glass Laboratory.
2003 Assumes Chief Director position at the Venetian Glass Laboratory.
2004 Receives Honorary Technical Award in Dusseldorf.
2008 Receives Cultural Promotion Contributor Award from the city of Grosseto, Tuscany.
2008 Represents Japan at the 11th OPEN International Exhibition of Sculpture and wins the Grand Prix.
2010 Participates as an invitee in the Issey Miyake "IM10" Project Competition.
2012 Announces "Imagine" Series, a series of poetic works using white glass. Attracts the media's attention.
2013 Announces "The Crossroads of Fate", successfully combining the use of transparent coloured glass with a special polishing technique.
2013 Participates as a Venetian glass artist in "Ask This of Rikyu", a film winning the Best Artistic Contribution award at the 2013 Montreal Film Festival, as well as 9 Japan Academy Prize awards for Excellence.
2014 Wins the Contemporary Fine Japanese Arts And Crafts Award at the 53rd Contemporary Fine Japanese Arts And Crafts Show. Subsequently exhibited at 8 locations around Japan including the Tokyo Metropolitan Art Museum, Kyoto Municipal Museum of Art, 21st Century Museum of Contemporary Art, Kanazawa and Shizuoka Prefectural Museum of Art.
2014 Collaborates on a glass and flower exhibit with a Sogetsu ikebana artist at the Tokyu Department Store Shibuya Branch Art Gallery.
2014 Invited by the Okinawa Ryukyu Glass Craft to work on the new work "Minzokusei・DNA" over a four month period.
2015 Announces work portraying calligrapher Sisyu's art using glass at the EXPO Milano Japan Pavilion.
2015 Publishes a collection of works "The Crossroads of Fate ". Wins two Best awards at the National Book Competition of Japan.
2015 Holds an individual art exhibition " DNA- ethnicity-" at Okinawa Prefectural Museum of Art.
2016 Collaborates on the exhibit of Japanese pavilion with 403architecture [dajiba] at Venice Architecture Biennale. Wins Special Menti